Who doesn't like chicken soup? It's comforting, filling, and actually healthy. Well, today we made a chicken soup for your soul and for you OCD-er's out there. Every thing in this soup is the same size, which makes for even distribution and cooking, the only thing that is different is the textures. Also, it just looks super cool!
This soup was made with leftovers or fridge scraps, so if you have different veggies, THEN FORGET IT, ITS OUR WAY OR THE HIGHWAY! or not. Just use whatever you can brunoise.
---
Brunoise Chicken Soup
What you need:
cutting board
knife
patience
heavy bottom pot
Ingredients:
chicken
carrots
celery
yukon gold potatoes
onions
garlic
zucchini
chicken broth
rosemary
turmeric
salt and pepper
garlic powder
onion powder
Step 1:
Preheat the oven to 350°. Place chicken in the on a baking sheet and drizzle with olive oil. Sprinkle liberally with salt and pepper. Put in the oven and bake for 20 to 25 minutes. Remove and let cool. Once cooled, cut the chicken to bite sized pieces and set aside.
Step 2:
In a medium sauce pan, warm up the chicken broth with some rosemary and crushed garlic, let it simmer while you cut your vegetables, strain (or pick out) rosemary and garlic before transferring to veggie pot.
Step 3:
Peel carrots and Brunoise them, if you aren't quite sure or haven't done it in a while, here's a quick video to help you, and the environment too, apparently.
Step 4:
Repeat with zucchini, onions, celery, and potatoes.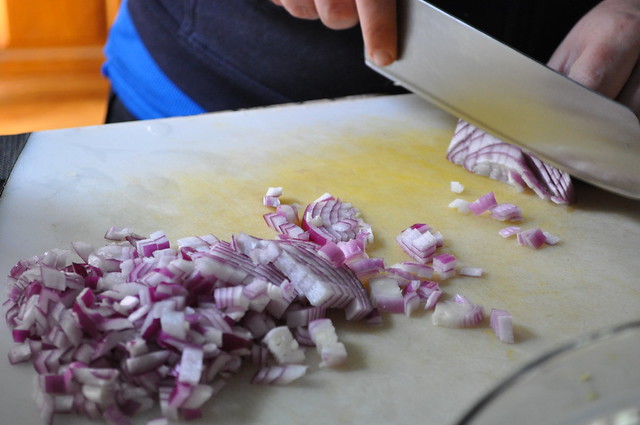 Step 5:
Heat some olive oil in the pot, and sauté onions and carrots for a few minutes, then add celery and zucchini, these guys don't need to cook so long. Add salt, pepper to taste, and turmeric to add a beautiful color to the soup.
Step 6:
Add chicken broth to pot and let everybody simmer together for 10 minutes.
Step 7:
Add the chicken (cut same size of the veggies) and potatoes. Cook until potatoes are tender. Then EAT!
Note from Christie:
"The broth should smell beautifully rosemary-y and amazing, like you want to wear it as a perfume, which I personally think is a great idea. Imagine the intoxicating smell of a fresh baguette or the handsome aroma of roasted coffee, or the cozy smell of freshly baked cookies?! Okay, okay, I might have a problem but you know what, that's ok. Me and food are in love, not in like, we are in a committed relationship and we go through ups and downs together."